San Diego Paper Shredding
San Diego Paper Shreddingis dedicated to providing cost-effective solutions for your office and home information security needs. We understand the need to protect your sensitive documents with the highest levels of security. We will match you with the right service based on your volume, service requirements, and budget. Give us a call today or fill out the form to the right for a FREE San Diego shredding quote.

About San Diego Paper Shredding
San Diego Paper Shredding offers numerous shredding services designed to meet virtually every client's requirements at reasonable prices.

We are prepared to meet your destruction needs at every level. Many of our customers start as "one-time" purges at the end of the year and grow into monthly shredding clients. We strive to provide the most competitive rates in San Diego.
Secure Shredding – All of our shredding services are secure and compliant with California and Federal privacy laws including HIPAA and FACTA.
Certified Service – No matter how we shred, you will get a certificate of destruction.

How Much Does A Shredding Service Cost in San Diego?
When you have documents that you need to shred, and don't decide to shred them yourself, you're left with one of the questions we get most often- if I hire a Southern California company to shred them for me, how much will it cost? Use this article to figure out how much shredding you have to do, and how to figure out how much it will cost.
Route Service – Daily, weekly, or monthly scheduled shredding service is available. Secure, locking shred bins are provided for free. Shredding can be done on site or off site.
Purge Service – For those requiring annual, one-time, or occasional shredding service, we recommend our specially priced purge program. Pricing is based on the volume shredded.
If you need shredding services San Diego we will connect you to our local partners and get you free quotes on their services. Call us at (858) 429-5828.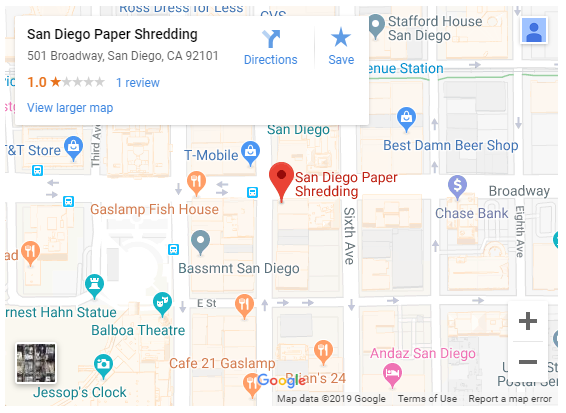 Get Free Quotes on Shredding in San Diego
San Diego Shredding Services
Service Options Available in San Diego
Ongoing Service – Weekly, monthly and quarterly scheduled shredding services. Secure, locked consoles are placed in your office at no cost, and a driver stops by regularly to shred your materials.
Purge Service – For companies that require annual, one-time, or occasional shredding. Costs are calculated based on quantity.